Project Charon: Space Fighter VR available on Oculus Store and Google Play
In Home Net Games we like to challenge ourselves. With Project Charon: Space Fighter VR we wanted to deliver an AAA quality space shooter for smartphones, compatible with Google Cardboard Goggles and Samsung Gear VR. Under only 120 MB we managed to fit great textures with advanced shaders and full voice overs, and on top of that an intuitive and fun VR experience in space.
We assumed that the most precise controller is your head. You steer your ship and aim by simply tilting your head – but don't mistake it for a rail-shooter.
Just grab your goggles and take Project Charon: Space Fighter VR for a spin!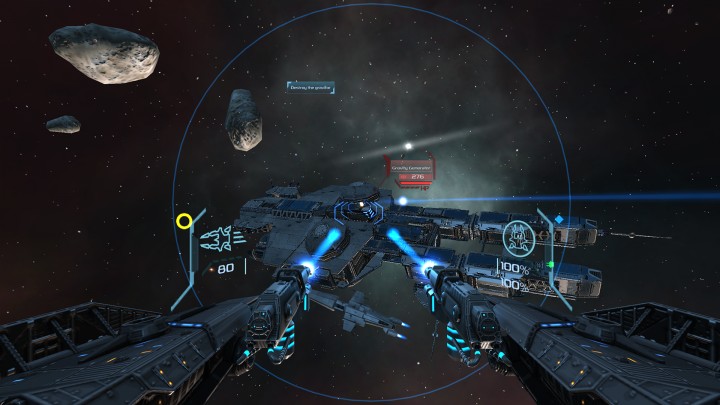 Epic VR space battles like you've never experienced before!
Get into the cockpit of experimental starfighter EX-23 in the best-looking VR space shooter available on mobile devices. This is Project Charon: Space Fighter VR.
Complete thrilling, diversified missions standing up against drones, enemy fighters, bombers, giant frigates, and destroyers. To defeat the most powerful foes, you will have to upgrade your ship until it becomes the ultimate killing machine.
Together with CAIA, your onboard AI companion, uncover the truth behind the terrifying experiments conducted by OrCop corporation and gather allies to face the ruthless enemy.