What is Home Net Games Cloud Save?
Home Net Games Cloud Save is a free service that allows you to backup saved games from your device on our server and synchronize it between various platforms and devices. Using HNG Cloud Save is optional for singleplayer, and required for multiplayer mode if given game has one.
Home Net Games Cloud Save – everything you need to know
1. HNG cloud save is optional for singleplayer mode in all of our games.
2. It is and it will always be 100% free.
3. We don't collect any personal data.
4. We don't send any mailing or newsletter without your permission.
5. We only analyse save games on our server to ensure a proper balance of our games.
6. We don't store your password as plain text. We store "salted" md5 of your password so even if our server is hacked (which is unlikely), your password is safe.
Why you should create a Home Net Games Cloud Save account?
1. Your saved games will be backed-up on our server. Even if you uninstall the game or change your device, in just a few seconds you'll be able to recover your progress and items.
2. Our cloud service allows cross-play on various devices and platforms. You've played the game on the bus using your Android phone, and want to continue on your iPad or PC? No problem!
3. Smooth support. If you create a HNG Cloud Save account before contacting our support, it will be much easier to restore your purchases if needed or check your saved game if any other issues arise that you may need assistance with.
4. Required for multiplayer. This is the only case when HNG Cloud Save account is required. To enjoy multiplayer modes in The Pirate: Caribbean Hunt or Hex Commander: Fantasy Heroes you'll have to create an account.
5. One account for all Home Net Games productions. You don't have to create a new account for each of our games. Only one account is needed with all of our games. If you created an account a long time ago for a game you no longer play, you'll be prompted that your email is used, and you just need to reset your password.
How to create a Home Net Games Cloud Save account?
Start one of our games. In the example below it's The Pirate: Plague of the Dead, but the look and placement of the buttons may vary depend of the game.
1. Select Cloud Save button, a window show up, select Register.
2. Enter your e-mail address and password.
NOTE: Do not disclose your password to anyone. Home Net Games employees never ask for your password.
3. You can grant us permission to send you our newsletter – of course this isn't mandatory. We also hate spam and we would only be sending the newsletters on very special occasions, like the release of a new game.
4. Select Register. That's it!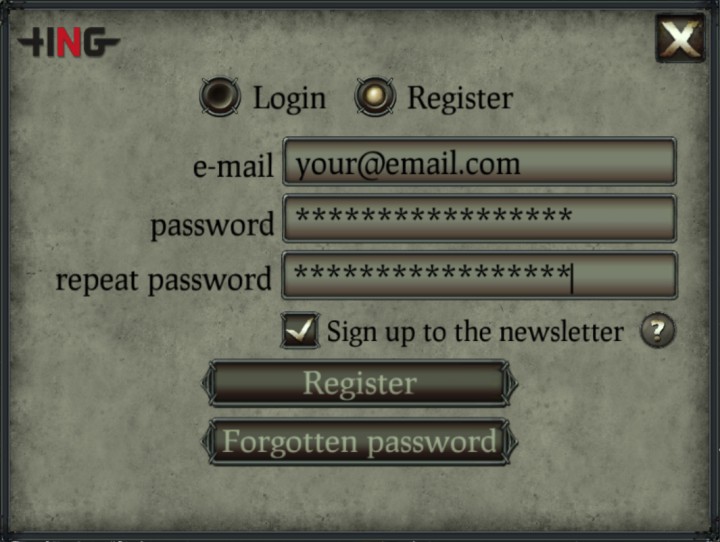 I can't log in? What happened?
1. Select the Forgotten password button, and enter your e-mail. You'll receive a message with a link to reset your password. Please check your spam folder if you didn't receive an e-mail within a few minutes.
2. If you are getting a message "No account exist for this e-mail" there is a high probability that you made a typo in your e-mail address during the registration process (common mistake is typing gmai.com instead of gmail.com). In that case, please contact our support support@homenetgames.com and we'll try to help you recover it if it's possible.
I'm receiving the message about the save conflict. What does this mean?
If you haven't been online while playing the game (it's possible, we don't require internet connection in single player modes), your save game will be automatically exported to the server after internet connection is established.
For example, if you have been offline on one device, while playing online on a second one, after logging in on the offline device, you might be asked what saves should be used and synced with the cloud.
1. Choose Export to upload save from the device you are currently using to the cloud.
2. Choose Import to download save from the cloud and overwrite progress from the current device.
NOTE: These changes will be irreversible.
Premium items and Home Net Games Cloud Save
All premium items are stored in your save and they are linked with your cloud save account if you created one. If you delete your save within the game you'll permanently lose game progress premium items that can be used or purchased multiple times.
After save reset, you'll lose:
The Pirate: Caribbean Hunt – gold, ships, skill points, rubies, repair kits, contents of Dead Man's Chest, Treasure Chest, Starter pack and Commodore's Pack.
The Pirate Plague of the Dead – gold, ships, repair kits, contents of Starter Pack and Privateer's Pack.
Hex Commander: Fantasy Heroes – gold, gems, scrolls, potions, contents of Starter Chest and Explorer chest.
Zombie Defense – cash.
After save reset you won't lose:
All games – Remove advertisements
The Pirate: Caribbean Hunt – Total Town Pack, Pile o'Houses, Base Forts, Ship customization, Gift Giver, Clan Leader, contents of Governor's Pack.
The Pirate Plague of the Dead – captains, port locations, Ship customization, contents of Explorer's Pack
Hex Commander: Fantasy Heroes – premium units, packs of premium units, teleport items
Zombie Defense – all items except cash.
To restore purchases on iOS and Steam version, open Premium Shop/Imperial Market and select Restore Purchases button. On the Android devices they will be restored automatically after logging in into the cloud (if they were saved) or after opening Premium Shop/Imperial Market.
NOTE: If you removed your save while being offline or logged out from the HNG Cloud Save, you'll be able to restore your full save game including all items.