Warplanes: Battles over Pacific - How to increase Squadron size?
Increasing your squadron size with medals
At the beginning - your squadron size is limited to 2 machines (one for you to flight in and one as a "spare"). By investing your medals in "max squadron size" update - you can have as many as 5 planes in a single mission.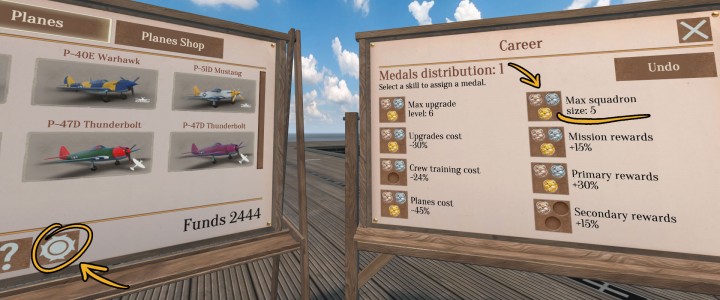 medals assigned - numer of planes in your squadron (in total)
0 medals - 2 planes;
1 medal - 3 planes;
2 medals - 4 planes;
3 medals - 5 planes.
Changing plane status
While at base (between missions) - click on the plane on the left board and then - focus on the board in the middle. You can change the plane status using the "Change Status" button, and there are 3 possible states (from which the current one is displayed above said button).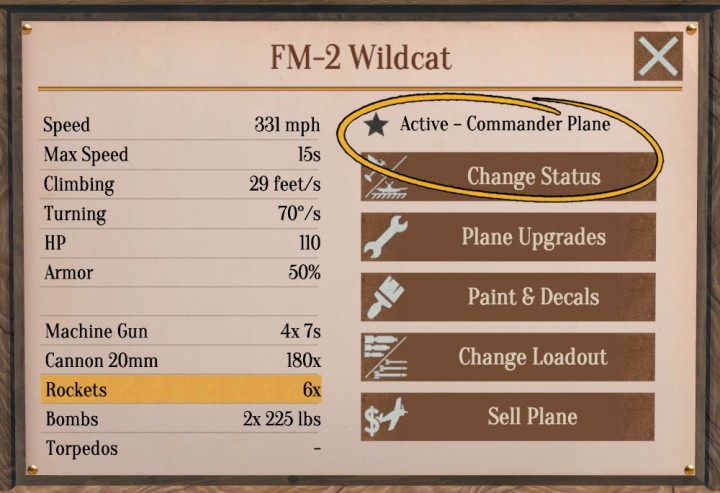 Grounded - Stays in Base - this plane will be unavailable for you during mission;
Active - Support Plane - plane that will accompany you during mission, and will be controlled by a friendly AI pilot. You will hovewer be able to take control of it, by touching its photo in your cockpit;
Active - Commander Plane - this is the plane that you are starting the mission in. You can freely change over to any of the support planes, as long as their HP is not too low.
During the proper mission phase - the plane you are currently in is presented by the largest photo.
Sample case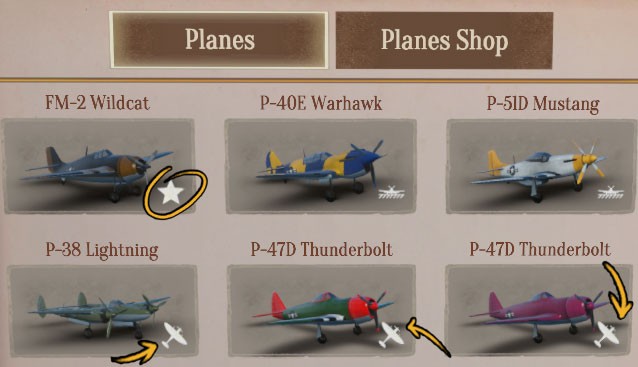 In the situation above - you start with FM-2 Wildcat and after take off - it will be your default (first) plane to fly with. However, while in mission - at the bottom of the cockpit you will also find photos with other planes in your current squadron. Following this particular example - support planes are:
P-38 Lightning
P-47D Thunderbolt (green & red)
P-47D Thunderbolt (purple)

By touching their photos - you can "jump" between them. The trick is to do this right before your HP is out, so in the end, you can survive longer and have more time to destroy all the enemies.