Warplanes: Battles over Pacific – updates, roadmap and release FAQ
Warplanes: Battles over Pacific will be released to the Meta Store this Thursday, August 11. Here is the most important information related to the release. Thank you to all the players who supported us on App Lab. You are a fabulous community!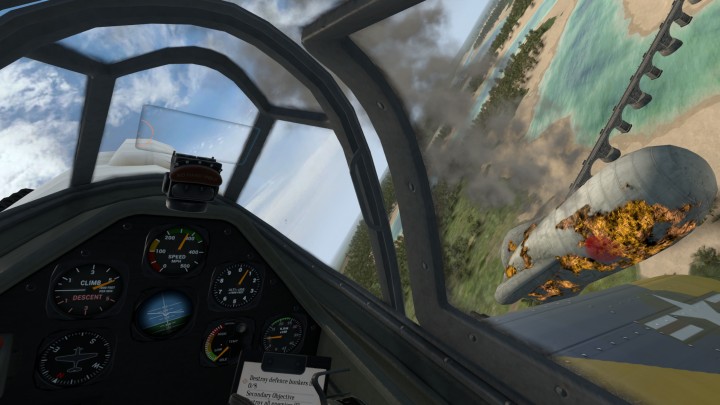 Will there be a new content update on August 11?
No. The release is a migration from the App Lab to the Meta Store, it is a long process preceded by certification, and we needed to fit in a given release window.
Of course, we planned a major update, unfortunately, as it happens in gamedev, there was a delay. In our company we avoid crunch, so the update will debut later.
What will be in the first content update and when will it debut?
We are working on some interesting changes to the campaign. The process is quite complicated to maintain compatibility with previous game state saves, so we still need some time. We are not ready to give an exact release date.
Can you reveal the roadmap?
No, we like to play with ideas. We know that you would prefer to know the details earlier, but we really love making games, and we want to fully utilize our independence. Long-range planning makes us anxious – we know that it may sound unusual, but believe us, the more fun we have in designing the game, the more fun you will have while playing.
Are you planning any DLC with new planes?
We don't have plans for single planes sold as DLC. Large paid add-ons are possible, but not yet determined.
Do you plan to add the B-17 bomber?
No. The game was not designed for bomber gameplay.
Do owners of the App Lab version have to perform any actions?
No, the game will be upgraded to the Meta Store automatically, and of course free of charge. You will not lose your progress in the game.
Will the price of the game on the Meta Store change?
Yes. Similar to Warplanes: WW1 Fighters – the price of the game will be $19.99.
Will the version on Steam also come out on August 11 from Early Access?
No, we will let you know about this date in advance. Of course, all platforms including Steam, Vive, and Pico receive updates at the same time to avoid any problems with cross-platform multiplayer.