Update 0.8.2 – new modes, updated schedule and price of version 1.0
We are almost a week after the release, we are pleased by the game reception and we are working hard to include some of your wishes and ideas into the full version. Sorry that we can't reply to every single one of you on itch.io, SideQuest, YouTube and more, but we have read all of your comments.
UPDATE 0.8.2 CHANGELOG
4 new modes (detailed description below).
Balancing and gameplay tweaks.
Shaders improvements.
UI tweaks.
Controllers vibrations option.
Walking in the base tweaks, looking around on right thumbstick added.
Bugfixes (ex. bomb gripping in realistic mode).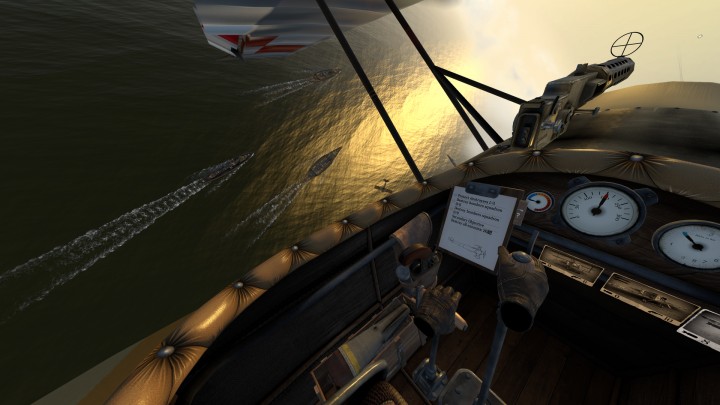 NEW MODES
Leisure
Flying model is simplified so it is easy to fly and fight. Auto aiming on all targets is available. Point your plane to the target then hold Left Trigger. Plane will automatically steer to the target.
Arcade
Flying model is simplified so it is easy to fly and fight. Auto aiming works only on ground targets.
Realistic
In this mode your plane behaviour is based on aerodynamics and physics, so you can perform rolls and loops and experience stalling and free falling.
Ultra
In this mode all secondary forces are calculated (ex. engine torque) – this mode is for real flying sim fanatics.
Real War
Flying is calculated like in Ultra mode, but additionally all hud elements are hidden. No aiming dots nor plane markers. You have to recognize planes by their shapes and paintings. This is as close to a real experience as you can get.
ROADMAP SCHEDULE AND CHANGES
Working on new modes didn't change our schedule regarding 0.9 release, since the most work is related to creating new 3D assets. At this moment, we plan to release update 0.9 which includes a Triple Entente campaign on January 29. Version 1.0 including translations, bug fixes and more, is scheduled for February 1. There will be more planes than we had initially announced, but we don't want to spoil the surprise and reveal them all at the moment.
WHAT ABOUT MULTIPLAYER AND CO-OP?
Silence isn't always the best way to comment on difficult questions. And this question is indeed difficult. We are looking into the matter, but we don't want to make any solid declarations at this time. We'd love to implement multiplayer or co-op, but the game needs to have some traction and an audience that can fill the servers first basically.
At the moment we are selling Warplanes: WW1 Fighters as a singleplayer experience. That may change in the not so distant future though, but we don't want to include multiplayer to our roadmap just yet.
NEW PRICE AFTER PRE-RELEASE PHASE
After exiting the pre-release phase, Warplanes: WW1 Fighters will cost $14.99.
You can still purchase it for $9.99 until the end of January, despite that the suggested price on itch.io is now set to $14.99.
We want to thank everyone who supported us, we'd love to stick around and create more VR games – our heads are full of ideas. Every purchase and every tip is providing us with the resources necessary to keep the company afloat and expand the project furthermore.