Update 1.0 – takeoffs and landings, aggressive A.I. and localizations
Thanks to your constant support, we are proud to announce that we are officially exiting the pre-release phase. Warplanes: WW1 Fighters is a game that we are really proud of and we wouldn't have been able to achieve it without your feedback and ideas.
Of course, this doesn't mean that we are finished with support of the game. We can now officially confirm that Warplanes: WW1 Fighters will feature PvP and Co-op multiplayer. But, let's focus on the features coming in the version 1.0 update for now.
Take offs and Landings
We are introducing one of the most requested features – takeoffs and landings. They are enabled in Realistic, Simulation and Real War modes, but you can turn them on also for Arcade flight physics. Just select the Custom mode and tick the proper checkbox.
Aggressive and More Challenging A.I.
Some of you voiced concerns about the A.I. pilots being not much of a challenge. Now, they are more aggressive in Simulation and Real War modes by default, but of course you can turn this option on or off, in the Custom mode.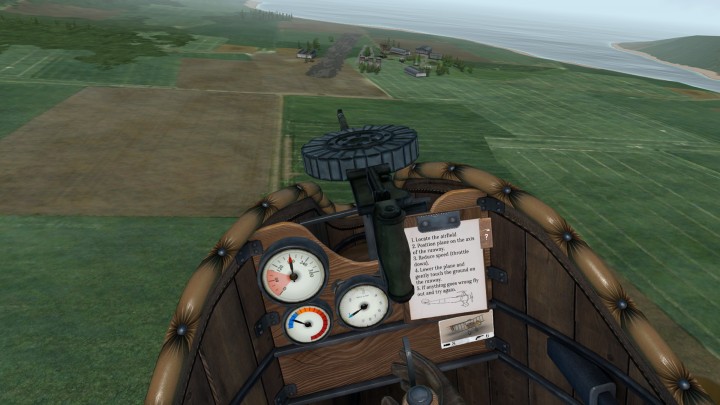 Localizations
Version 1.0 contains localizations into: German, French, Spanish, Italian, Russian, Polish, Hungarian, Ukrainian, Indonesian and Japanese. Brasilian Portugese translation is slightly delayed. You may still notice that some lines are not yet fully translated, but we are constantly adding new features to the game, so the localizations have some lag. If you find any typos or mistakes please report it in the "Localization issues" section on our Discord.
Changelog
Takeoffs and landings.
Aggressive and More Challenging A.I.
Lewis gun can now be grabbed by its handle (S.E.5, Airco DH.2).
Translations (10 languages).
Bug fixes and balance improvements.
Update Manual
We are also reminding you that you don't have to delete your old APK to install the update. Doing so can result in the loss of game progress. So to avoid this, just follow the steps described in our recently published Installation Manual and FAQ.
Oculus App Lab
As you might have heard, Oculus just launched a platform for indie developers called App Lab. You can read more about it in Shane's note on SideQuest blog.
We are waiting for approval for Oculus App Lab. If everything goes smooth, we'd be part of the Oculus ecosystem, despite not being in the official storefront. The game will utilize all features like auto-updates and cloud save. Enabling developer's mode would not be required to launch the game and it will appear in your app library instead in "Unknown Sources" section.
We'd like to provide free Oculus App Lab keys for those who purchased the game at itch.io, but we can't confirm it at the moment – we are 100% dependent on a third party company which is Oculus.
We'll inform you in a separate note when we finalize the details. If you own a copy on itch.io and would like to migrate to Oculus App Lab – please don't purchase a second copy. We'll do what it's within our power to give it to you for free.