Warplanes: WW1 Fighters is now available on Steam, along with the new Update 2.0
Today, almost two months after initial release on SideQuest, we can finally introduce the SteamVR version of Warplanes: WW1 Fighters. After update 2.0, all versions share the same content and cross-platform multiplayer is available. The PC version benefits from the more powerful hardware – we've increased textures resolution, terrain grid density and foliage density.
Version 2.0 contains all updates and features, that wouldn't be possible if not the feedback from wonderful communities on SideQuest and itch.io. To thank you for your input, we'd like to offer you a free Steam key if you purchased the game before March 5.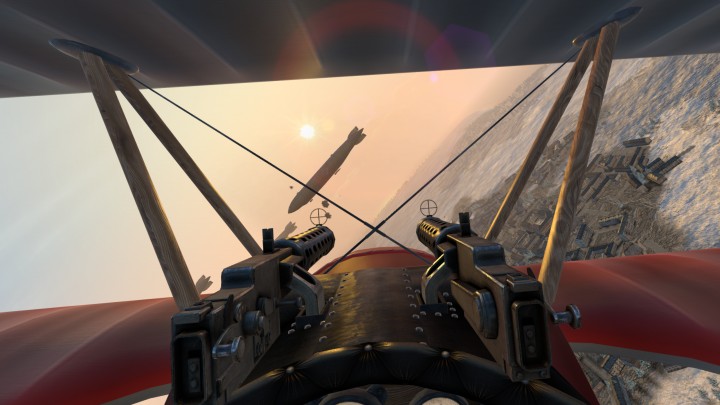 Head to www.homenetgames.com/keys and follow the instructions.
The Oculus App Lab version is currently pending review, we don't know if we'll be able to provide you with a complimentary key, but we'll do our best. If you have decided to wait for the Oculus App Lab version, then please do not take the Steam key at this time. If possible, we'll be offering an extra key for more platforms, but at the moment, only Steam is available.
2.0 Changelog
Two new planes: Airco DH.4 and Albatros C.III.
Sticky grip option – you don't have to constantly press the grip button to hold the stick or throttle. This feature can be enabled in the settings.
Bug fixes and tweaks.
How to download update 2.0 from itch.io?
We are getting reports that your game is being sometimes downgraded to a demo after update or after purchase you still have a demo on your Quest device. Technically it's not possible – full version and demo have separate APK files. Only reasonable conclusion is that you are sideloading the wrong file. What may be causing this?
"INSTALL TO HEADSET" button on SideQuest always uploads a demo version, even if you purchased a licence on itch.io.
Please make sure that you've downloaded com.HomeNetGames.WW1oculus_Full.apk from itch.io instead of com.HomeNetGames.WW1oculus_Demo.apk.
How to do it? There are two methods:
Login on itch.io, head to My library and download com.HomeNetGames.WW1oculus_Full.apk. You can also use the download link from the email you received after purchase.
Launch SideQuest app on your PC, connect your Oculus Quest device, and use the "Install to APK file from folder on computer" button to sideload downloaded com.HomeNetGames.WW1oculus_Full.apk to your headset.
or
Launch SideQuest app on your PC, connect your Oculus Quest device, click "ON ITCH ($14.99)" button – you won't have to pay again. Just login into your itch.io account, head to My library, and press Download (make sure it's not a demo). You'll be prompted to install the game on Oculus Quest.