Update 0.9.0 – 4 new planes, realistic damage, custom mode and more!
Just for the weekend, we've cooked a huge update for you. Right now, each campaign has more content that we originally planned for both of them in the initial roadmap. That's not all, we'll be sharing more information regarding future updates soon.
Last weekend to grab game for $9.99
We are also reminding that that's the last moment for purchasing the game at a pre-release price which is $9.99. We'd also like to thank those who already supported us with additional tip. Since February 1, the price will increase to $14.99. Of course all purchases are eligible for free updates.
4 new planes
Triple Entente campaign now contains 7 playable planes, this update comes with Airco DH.5, S.E.5 and Sopwith Triplane. Let us know in the comment which is your favorite.
Albatros D.II is the 7th playable plane in the Central Powers campaign. Don't forget to take it for a spin.
Custom mode and realistic damage
That request was quite common – you can now fully customize the difficulty level to adjust it for your playstyle. Use arrows on the mission briefing window (middle board), select Mode: Custom select gears icon to access all options.
Arcade mode flight physics without enemy markers and crosshair? No problem. Disabling switching between planes during the mission and enabling realistic damage affecting flight? Sure!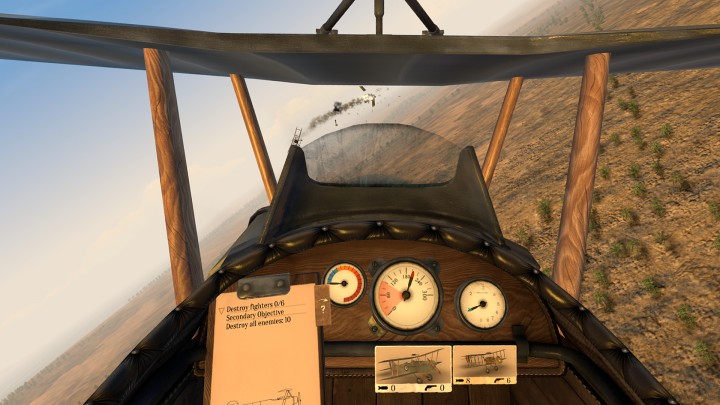 Regarding realistic damage – another popular request is now fulfilled. When you get hit in the wing you'll definitely feel how the plane is being dragged in one direction. There are six different types of damage (right wing, left wing, rudder, elevator, engine, fuel leak), each has different effects on your machine controls. Fuel leak is the most fun – your engine stops and you have limited time for finishing the mission. Basically your plane is turning into the glider... during the dogfight!
Realistic damage is enabled by default in Simulation and Real War modes.
Oculus Quest 1 optimization, 90Hz mode
We've been optimizing shaders and tweaking resolution to maximize performance with preserving image quality. You shouldn't be expecting any frame drops even during bigger battles.
Your device is now automatically detected and 90Hz during mission is now set by default on Oculus Quest 2.
Update 0.9.0 changelog
4 new planes.
Realistic damage.
Custom mode.
UI tweaks (color plane portraits that are showing your custom painting).
Bugfixes.
How to download?
To download the newest update, log in into your itch.io account. Click on an arrow next to your username from top right corner, select My library and click Download. Then follow our manual to upload the APK to your Oculus Quest, using the SideQuest App.
Join our Discord
Warplanes: WW1 Fighters channel is now available on our Discord server. Feel free do join us any moment: https://discord.gg/wXfEZHtgEh